Class of 1979
Chatham High School
Chatham, Massachusetts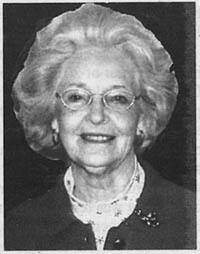 7 April 2015: Leona Goodspeed obituary In recent years, there have been a couple articles in the Cape Cod Chronicle written by my 5th grade teacher, Mrs. Goodspeed, including a really wonderful one she wrote about her memories of playing softball when she was in the Chatham schools.
When I read the most recent one, perhaps a year ago, I wrote a letter to her saying how much I enjoyed her articles and letting her know what was going on in my life. As you would expect from her, I received a nice reply from her, in perfect penmanship, saying how she remembered me and our class, how her daughter used to live in my town and how she was doing. It was really sweet and made my day.
I'm sorry to report that the current Chronicle has her obituary, saying that she was 94 when she died. The world is a lesser place without her.
Click HERE to read the obit.
---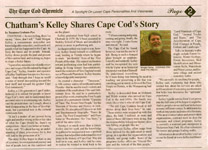 December 16, 2013: I'm a little behind on reading the Chronicle and just noticed this nice article about Todd from page 2 of the 29 Nov 2013 issue. (Click on the photo to enlarge.)
---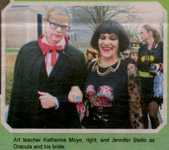 November 14, 2013: Another great photo in the Chronicle last week: CHS '79 alum and current art teacher in Chatham (well, Monomoy) Kitty Moye shows up as an excellent Bride of Dracula (Click on the photo to enlarge.)
---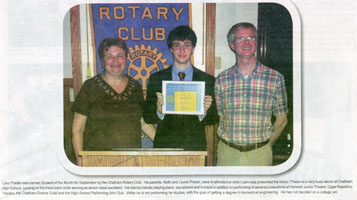 September 28, 2013: Reading the Chronicle this morning, I came upon this nice picture of CHS '79 alum Laurie (Tobin) Phelan and her family. Laurie's son Liam was named "Student of the Month" by the Rotary Club. Congratulations! (Click on the photo to enlarge.)
---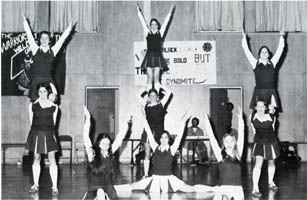 September 14, 2011: Most of you already know about the impending regionalization of Chatham and Harwich which will result in the new Monomoy Regional School District. A side effect of this will be elimination of a school known as Chatham High School and a team known as the Blue Devils.
I recently received an email from Jenny (Young) Smith '78 about a new Facebook page from the CHS Booster Club. She writes:
Hi Jim--
Hope all is well with you. I'm emailing to let you and the Class know that the Chatham High School Athletic Booster Club has started a new facebook page as a tribute/time capsule of sorts to remember sports of Chatham High School as this will be the last official year of CHS as we all knew it. Starting 7/1/12 the Monomoy Regional School District will take over. The link is below and I thought you could post it on the class website.
http://www.facebook.com/pages/CHS-Athletic-Booster-Club/247209958654502
Anyone with old pictures or memories are welcome to post to the site. The club is also thinking of having a float in the 4th of July parade as part of the Town's 300th if anyone is interested in partcipating.
Take care,
Jenny
---
27 January 2010: Your Favorite Bartender
This week's Chronicle brings a nice feature article about Kevin! What I want to know is: Why is it that when I go in the Squire you are never there? Well at least now I know your schedule. :-)

Click on the article above for a larger version. You might have to then click on the photo again to make it large enough to read, depending on your browser.
---
15 January 2010: Chronicle redux
It seems some explantion is in order. You might be wondering why the Class of '79 was in the newspaper last week.
Back before the reunion, Amy Tagliaferri of the Chronicle helped me put some advertisements in the paper to try to find classmembers. The other day I had an unrelated reason to send her email and I mentioned in passing "Oh, thanks for helping me with those ads. We had a great time at the reunion and you might be amused by this photo of Gayle and me." I gave her a pointer to photo on the web site. When she replied, she said "Oh, thanks, we'll use some of your photos in the paper this week."
So that's how we came to be in the Cape Cod Chronicle last week, months after the reunion. In case you missed it, here is what it looked like: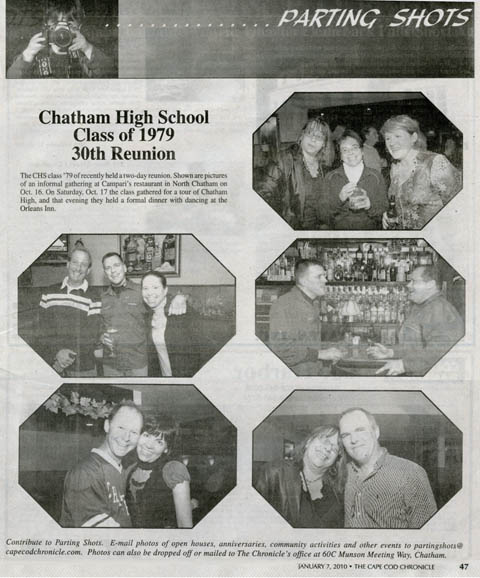 Click above for a larger version, or better yet, go see the original photos HERE.
---
11 November 2009: Us in the Chronicle & photos from Susan
Susan J sent me some great photos from back in the day. Thanks, Susan! I'm guessing these were about 1974. I want to jump into these photos! You can click on them to see larger versions. If anyone else has old (or new) photos they would like to share, send them along and I'll scan them. I can return them to you after if you like.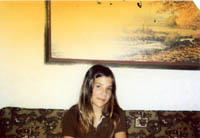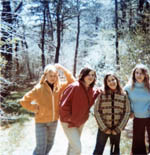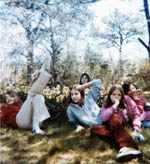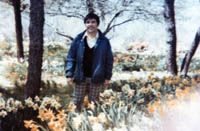 1:Susan
2:Melanie, Kathy, Lois, Judy
3:Laurie, Judith, Lois, Darcy, Kathy
4:Joe Santacroce!
We were in the Cape Cod Chronicle in the 29 October 2009 issue, thanks to Bing's photo. (Well, I guess it's really Nancy who took the picture!)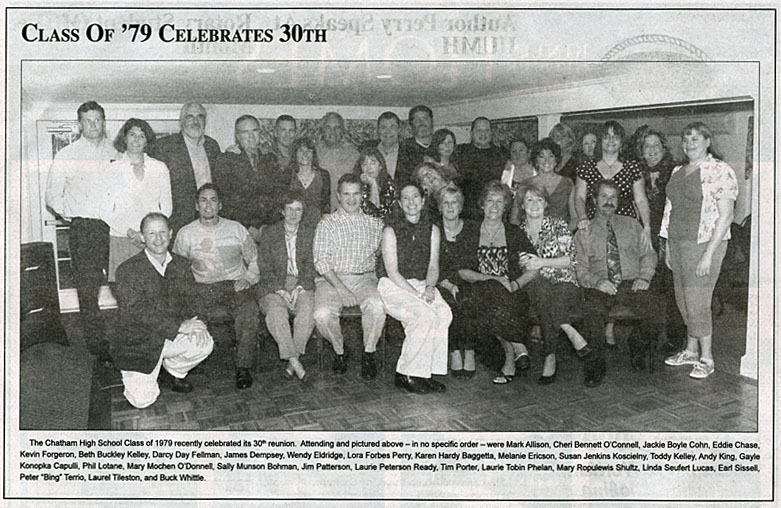 ---
25 October 2009: Group Photo & Darcy's photos & pictures from Beth Whelden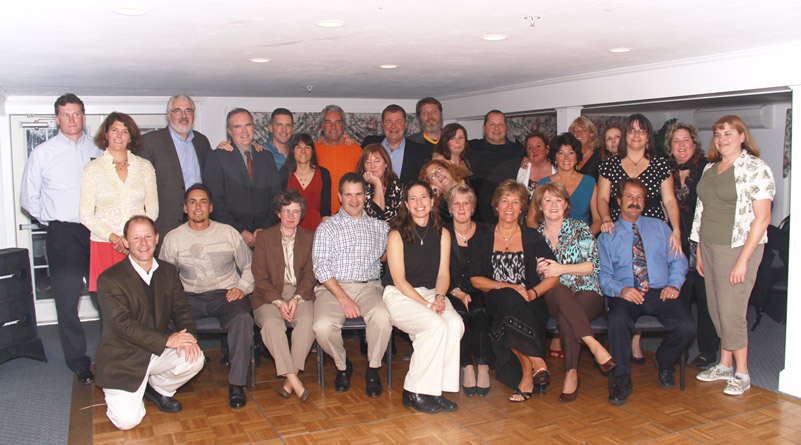 I just got a copy of the group photo from Bing Terrio, reproduced above. If you want to see it larger, click on it. If you want to see it really large, click on it a second time.
For those who need a scorecard:
Standing, from left: Mark Allison, Sally (Munson) Bohman, Earl Sissell, James Dempsey, James Patterson, Susan (Jenkins) Koscielny, Andy King, Linda (Seufert) Lucas, Buck Whittle, Todd Kelley, Beth (Buckley) Kelly, Karen (Hardy) Baggetta, Kevin Forgeron, Mary (Ropulewis) Schultz, Mary (Mochen) O'Donnell, Laurie (Peterson) Ready, Darcy (Day) Fellman, Gayle (Konopka) Capulli, Wendy Eldridge, Laurie (Tobin) Phelan.
Seated: Bing Terrio, Tim Porter, Laurel Tileston, Phil Lotane, Lora (Forbes) Perry, Melanie Ericson, Cheri (Bennett) O'Connell, Jackie (Boyle) Cohn, Eddie Chase.
Photos from Darcy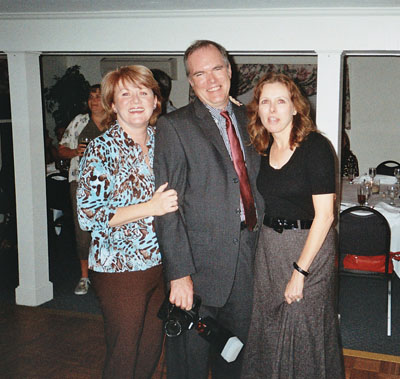 Darcy (Day) Fellman was also kind enough to send me a CD full of images she took at the reunion. They are now in the same place as the other photos: CLICK ME FOR REUNION PHOTOS
Thanks, Darcy!
Photos from Beth Whelden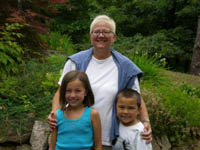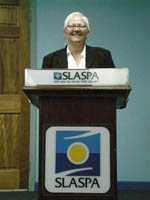 I got a nice email from Beth Whelden saying how she wished she had been able to come to the reunion. She sent along two pictures for us to photoshop into the reunion group photo... :-) Click on the small versions above to see the large versions. The first one is Beth with her niece Emma and her nephew Max. The second is Beth in St. Lucia for work.
---
22 October 2009: Disposable Cameras Developed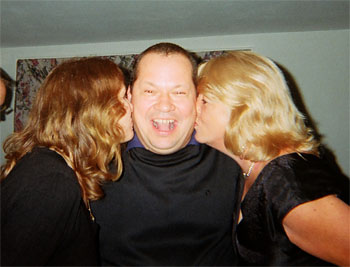 I had the six disposable cameras from the tables at the Orleans Inn processed. Their pictures can be found at the same place as the others:
CLICK ME FOR REUNION PHOTOS
---
19 October 2009: 30th Reunion: Mission Accomplished!
Hi everyone! Boy, what a great weekend. Everything went really well and (as far as I could tell) everyone had a great time! Thanks to all of you who came for making it a really fun time. I can't wait to do it again in another 30 years. (kidding)
I've put up the pictures I took here: CLICK ME FOR REUNION PHOTOS
I expect that I'll put up more photos as time goes on as I get the group photo from Bing and as I get the disposable cameras developed. I'll let you know when there's more.
Thanks again everyone! I had such a great time.
---
4 Oct 2009: Even more classmember photos!
Less than two weeks until our reunion! As of today, we have 39 people confirmed for the Orleans Inn on Saturday and 31 people who say they're coming to Campari's on Friday. If you are planning on coming to either and haven't replied yet, please email me so that I can tell the venues how many people we will have. It's never too late to reply, so don't think that you've waited too long. Procrastinators are welcome! Click HERE for the reply form.
Two sets of new classmate pictures today. First up, Richard Hunt's wife Betsy sends two pictures. The first "is Richard Hunt and our Beagle Doc." The second is "Richard's wife Betsy and daughter Rachael at our annual skating show 2009." Thanks, Betsy!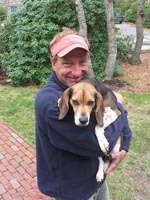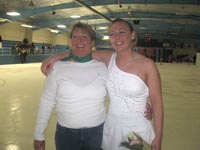 Next up is a photo from Jim Patterson. He writes: "Here's a picture of my kids "shaking it" off our dock at Key West. In the 'you can't make this stuff up' category, Andy King's sailboat is in the background and our 4th grade teacher Kevin Foley's sloop Hindu is around the bend. Picture is of the mooring field at Key West bight."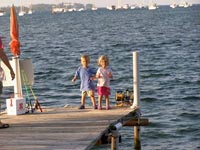 ---
29 Sep 2009: More classmember photos!
Hello again. I've received some more classmember photos that you might like to see. Here's Mark Watkins with two pictures. The first one is a picture of Mark with his wife Lisa and his boys Jack and Max, taken a couple of years ago in Las Vegas. The second picture is his one year old Labradoodle, Molly.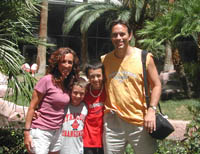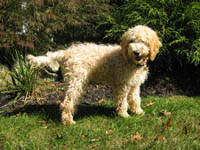 Next up is a photo from Barry Hynes. He says "Here's a picture of me and Atlanta Falcons quarterback Matt Ryan after Sunday's Patriots game!"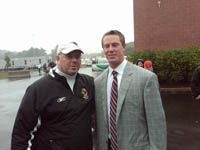 Finally, here's a picture sent to me by Mary (Mochen) O'Donnell of her daughter Lydia and her nephew Nick.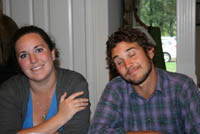 ---
27 Sep 2009: Classmember photos!
Hi everyone. Less than three weeks to the reunion. I was pleased to get calls from Tim Porter and Dorothy Nickerson yesterday. Tim and his wife will drive all the way from South Carolina for the reunion. Dorothy will be there on Friday night at Campari's, but won't be able to make the reunion. Can't wait to see them and the rest of you.
I recently asked that people send me photos of them and/or their families that people might be interested in seeing in advance of the reunion. Here are some! (As always, click on the small pictures to see them larger.)
First up, Glenn Wills sent me the following photo with the text: "Here is a recent picture of me in May while in Afghanistan at Lake Band-e Amer, their first national park. I just finished 15 months there for work." He says he hopes to come to the reunion and will let me know this week.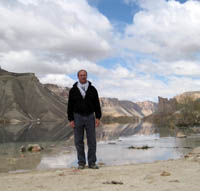 Next up are some photos from Susan (Jenkins) Koscielny of her family. The first photo shows her kids Dana (14), Chris (21) and Allie (19). I presume this was from Dana's eighth grade graduation. I happen to know that Chris attends Princeton and loves it there. I think he's a Junior or Senior this year. The second picture is 6 1/2 year old Sparky.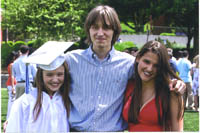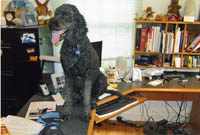 Finally, here are a couple pictures of me (Jim Dempsey) and my family from a few weeks ago when we took my daughter to college at RISD. The first picture is my daughter Samantha (19) and my son Justin (15) with the car all packed. The second is my wife Heidi, Samantha and I as we prepared to leave her in her dorm room. (sniff sniff)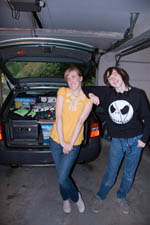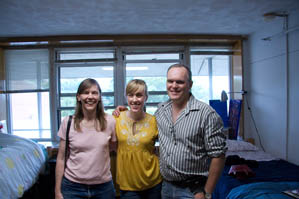 We're running out of time for reunion replies. I was hoping to have them all back this week so I could let the Orleans Inn and Camparis know how many people would be there. If you haven't replied yet, please send back the reply form (click HERE) right away!
--Jim--
---
15 Sep 2009: Famous classmate!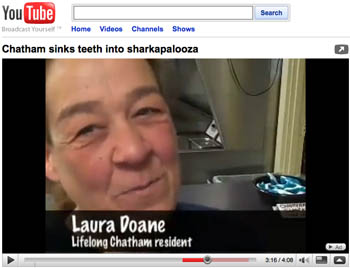 Thanks to Laurie (Tobin) Phelan (a.k.a. @TikiMom) for pointing me to this Cape Cod Times video containing an interview with our very own Class of '79 member Laura (Wholly) Doane! (Both Laura and Laurie told me they're coming to the reunion!)
Laura comes on at about 3m10s:
http://www.youtube.com/watch?v=40HfePfrtbs
Time's running out! Only two more weeks to download the reunion invitation by clicking HERE and mailing it back to me.
See you soon!
---
1 Sep 2009: Our reunion is next month! The details are mostly finalized and look like this:
Friday, 16 Oct, 7pm: Informal gathering at Camparis - drinks, appetizers
Saturday, 17 Oct, 10:30am: Chatham High School Tour by current principal Paul Mangelinkx (meet at the front door)
Saturday, 17 Oct, evening: Orleans, Inn

6:00pm Cocktails
7:30pm Buffett Dinner
8:00pm-11:00pm - Music and Dancing
I'm excited to see you all and I hope you can all make it. I know a bunch of people are coming from far away. It will be your best chance to see those classmates you haven't seen in a long time. The more of us that come, the better time we'll all have. So encourage all your classmates to come.
Please download the invitation by clicking HERE and mail it back to me with your check by the end of September. (Earlier if possible!)
If you know any classmates without internet access, please let them know about the reunion! Time is running out!
---
18 Aug 2009: October is fast approaching! Buck Whittle reminded me today that the 30th reunion is only 60 days away! Yikes. Things are starting to line up and I'm going to send official invitations out soon. So start making those travel and hotel reservations!
I'm still looking to contact some classmates. If you have contact information for any of these people, please send it to me right away. Thanks. (email address at the bottom of the page)
Ray Belmore, Edward Bennett, Susan Bogue, Pam Buckley, Mark Carr, Darren Corcoran, Enrique de Esesarte, Daniel Donahue, Peggy Dubis, Kevin Forgeron, Cheryl Friend, Gerald Friend, Judy Gillespie, Cindy Gonyer, Chris Greco, Karen Hardy, Judith Harned, Ken Horne, Tim Jackson, Valerie Kakos, Brian Kane, Joy Kuhnen, Michael Loring, Christine MacDonald, Kelley MacDonald, India Marvin, Sally Munson, Dorothy Nickerson, Elaine Nickerson, Kenneth Nickerson, Erin O'Connor, Eric Pate, Tim Porter, Scott Pratt, Thomas Rizzo, Eric Scherer, James Small, Mary Ann Stevenson
---
5 Mar 2009: It is going to happen! We have reserved the Orleans Inn for the evening of 17 October 2009 for the 30th Reunion for the CHS Class of 1979!!
The evening will be something like this:
6:00 PM Cocktails
7:30 PM Buffet Dinner
8:00-11:00 PM Music & Dancing
So please mark you calendars! We've committed to a certain level of attendance so we need a bunch of people to actually come.
I have email addresses for about 36 of you now, but we need to find everyone else and make sure that they know about this. If you are in touch with anyone from our class, please let them know about the reunion date and let them know about this web site. Have them email me at the address at the bottom.
Thanks to Gayle and everyone else who has helped track people down so far. I can't wait!
---
3 Dec 2008: SEND ME YOUR EMAIL ADDRESS! So far I've managed to track down about a dozen class members' email addresses, but I need more! Soon I'll send an email out to all those I have looking to see if they know others. If you are a member of the Class of '79, send me your email address! Thanks.
---
30 Nov 2008: Registered this domain and created this web site. I've long been sad that the Class of 1979 didn't have class reunions, so I decided to do something about it. I don't know if I have the energy or time to organize an entire reunion, but I can at least start gathering email addresses and setting up the website.
If you know any members of the Class of '79, have them send me their email address at the address below. --Jim Dempsey
---
email Jim D: webmaster@chatham79.org